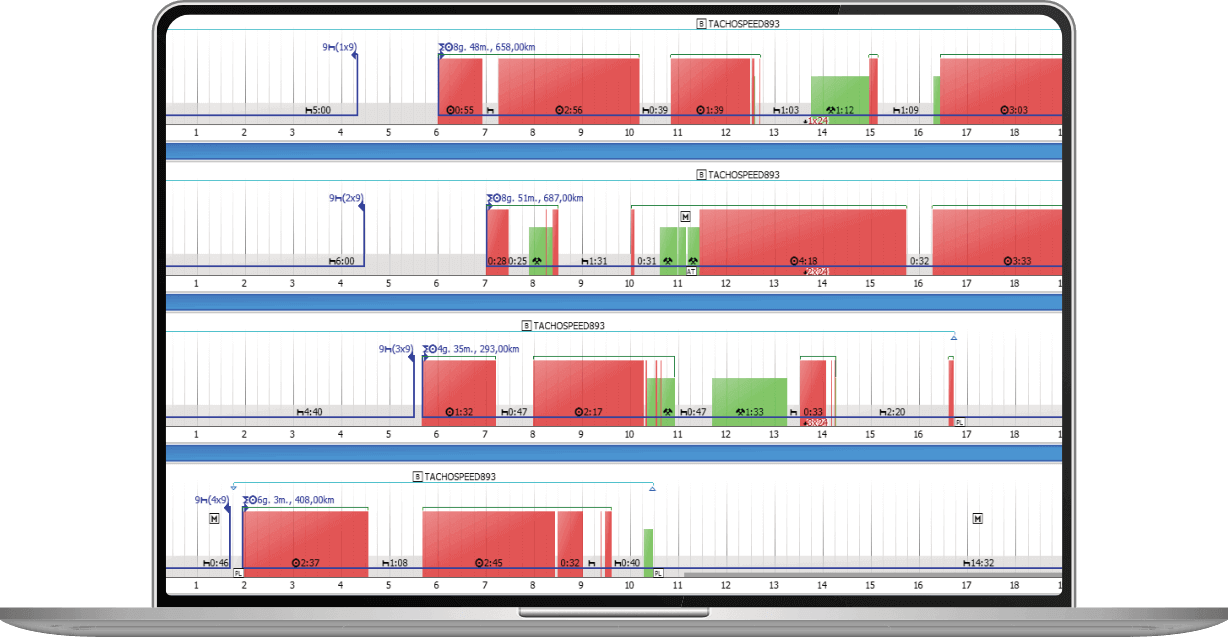 20 control institutions   |   25 000 active licenses   |   26 languages


















Tachospeed is an effective way to gain competitive advantages
Average reduction of penalties by 67%
Loss in accidents decreased by 72%
Driver hours analysis savings (6 hours per week per driver)

Tachospeed is always one step ahead
100% of compliance with Regulation 561/2006
100% of accuracy in driver hours analysis
increased efficiency and simplicity in the drivers' hours analysis
full compliance with Working Time Directive

Tachospeed is used by the Law Enforcements from many European countries
In particular by Police, Road Transport Inspections, Customs Chambers, Border Guards and Labour Inspections.
Discover our products
Why should you choose Tachospeed?
18 years of experience in the transportation industry
We are a team of experienced developers specializing in the transportation industry. We created Tachospeed to help others solve any driver time issues.
100% compatible with the mobility package
Our department of experts and lawyers makes every effort to ensure that the program always complies with current regulations. Tachospeed is fully prepared for the mobility package.
We serve the Police and Control Authorities in the EU
Tachospeed software is used by more than 7,000 transport companies and 20 European inspection authorities. Check out the tool that inspectors themselves use!
Data and reports.
Clear and transparent
We pay special attention to the readability of our solutions. We are committed to making all presented data understandable and the work as intuitive as possible for the user.
You pay only for what you use
Thanks to the program's modular design, you can choose only the functionality you really need. Don't overpay for things you don't need.
Use locally or in a network version
Tachospeed has a multi-user version, so you'll have access to all your data whether you're working locally or on a network.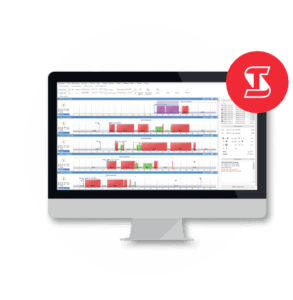 Test for free for 30 days!
Under the care of the Technical Department you will be able to check the full functionality of our software. You are welcome to test it!
TachoTerminal Pro 2.
The best to work with Tachospeed.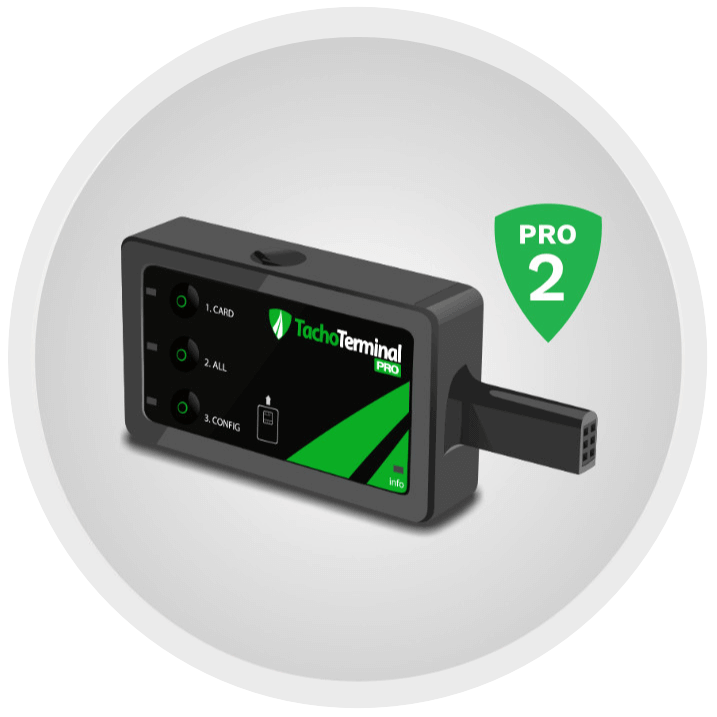 Ultra-fast device for downloading data from driver cards and the digital tachograph. Read your data in up to 12 seconds!
Universal download key for downloading data from digital tachographs and driver cards. TachoTerminal Pro 2 allows you to download data anywhere via an integrated smart card reader and its integrated power system. Driver cards data may be downloaded in two different ways: via digital tachograph and directly using a built-in driver card reader. While downloading data from driver card via a built-in reader it is not necessary to use an inspection or company card.
Small, lightweight and ergonomic, the TachoTerminal Pro 2 allows you to archive data with its removable 4GB microSD card, which can be used with a mobile phone for example.
Tachospeed is developed by Infolab, CORTE and Tachograph Forum member.
The Confederation of Organisations in Road Transport Enforcement (CORTE) based in Brussels is one of the largest and most knowledgeable road transport platforms at international level.
Tachograph Forum is a Commission Expert Group, lead by MOVE – DG Mobility and Transport. Assists the Commission in relation to the implementation of existing Union legislation, programmes and policies.